Become a Certified Reseller: Booksellers, Bookstores, Librarians, Libraries, and Book Distributors!
CreateSpace has now merged with Amazon.com. I will find out how you can become a Recertified Reseller through Amazon.com, but I don't have that information yet. Meanwhile, try the links below.
You may apply for a CreateSpace Direct wholesale account by visiting this link:
https://www.createspace.com/pub/l/createspacedirect.do
Below are the eligibility requirements for the CreateSpace Direct program:

1. You or your business must be a licensed business and provide an active reseller certification.

2. Titles must be enrolled in the CreateSpace Direct channel within Expanded Distribution (ED) to be eligible for wholesale prices. Note: all Lisa Mason titles are enrolled in Expanded Distribution.

Retail orders for books not enrolled in the CreateSpace Direct channel will be subject to sales tax.

Titles with CreateSpace have the following discounts when available via CreateSpace Direct:
Libraries - 20%
Retail - 35%
Distribution - 45%

Please follow these steps to begin creating your reseller account.
1. Complete all fields in the on-line form. Those marked with an asterisk are required fields
2. Download and complete the Resale Verification Form
3. Gather a copy of your Reseller Certificate or Uniform Sales & Use Tax Certificate
4. Fax or e-mail a copy of your Reseller Certificate and completed Resale Verification Form to CreateSpace.

If faxing, send to (206) 922-5928 Attn: CreateSpace Direct Reseller Program.

If e-mailing, send to info@createspace.com with subject line Attn: CreateSpace Direct Reseller Program

We are offering seven Lisa Mason books NEWLY REISSUED IN PRINT. Order these Print On Demand directly from the Printer as detailed above and receive your Certified Reseller's discount:
Summer of Love
"Clear-sighted, witty, and wise"
A Philip K. Dick Award Finalist
A San Francisco Chronicle Recommended Book
ISBN 978-1548106119
The Gilded Age
"Rollicking….dazzling"
A New York Times Notable Book
A New York Public Library Recommended Book
ISBN 978-1975853174
The Garden of Abracadabra
"Very entertaining urban fantasy."
ISBN 978-1978148291
One Day in the Life of Alexa
"An appealing narrator and subtly powerful emotional rhythms"
ISBN 978-1546783091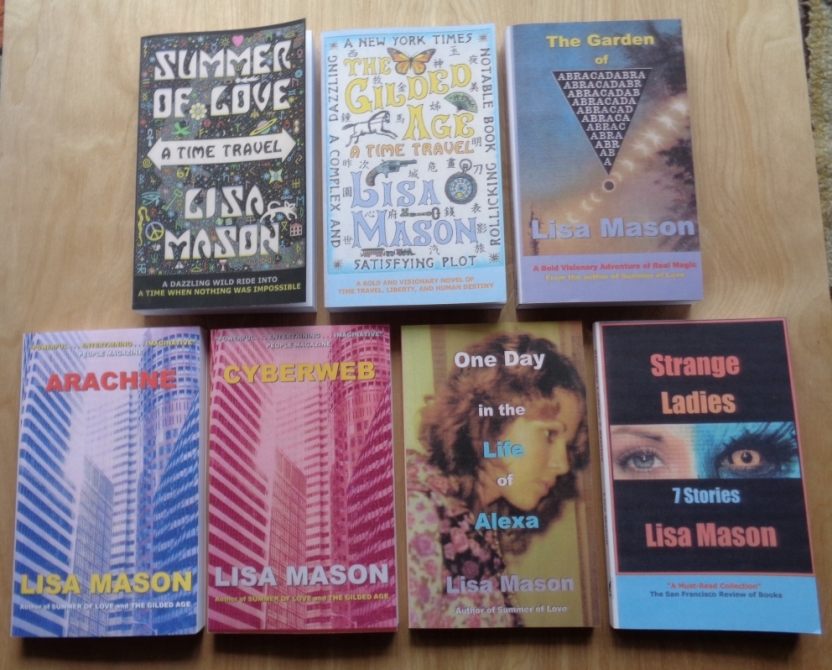 Lisa Mason, the Fantasy and Science Fiction Author
Books by Lisa Mason
Stories, Novelettes, Screenplays by Lisa Mason
Interviews, Reviews, Storybundles, Blogs, Next Thing
Art, Jewelry, and Mobiles by Tom Robinson
Cats, Past and Present
All content copyright 2000-2018 by Lisa Mason. All artwork copyright 2000-2018 by Tom Robinson.
Comments, questions, serious offers, lavish praise?
Contact Lisa Mason. All rights reserved.
For rights and publicity inquiries, please go to The Media Room.
Booksellers, Bookstores, Librarians, Libraries, and Book Distributors, please go to the Certified Reseller's Page.