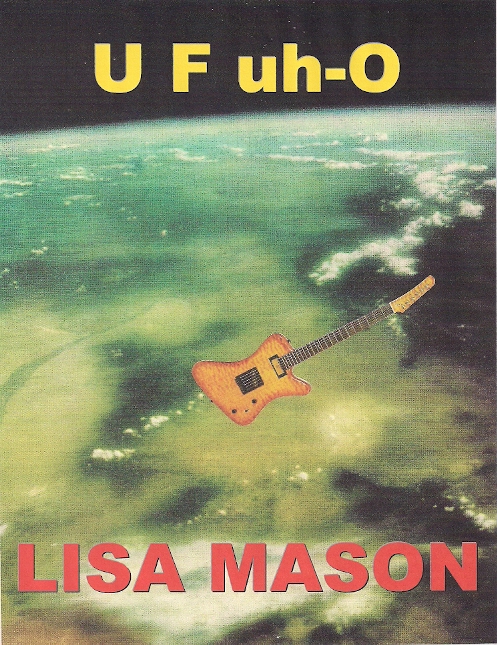 "Knocked Up" meets "Galaxy Quest"

Nikki and Josh really want a child but have infertility issues. Gretchen and Mike, who couldn't be more different, have the same problem. When Nikki meets Gretchen at the Happy Daze Family Clinic in Pasadena, they discover that, despite their differences, they share a love of pop music and have asked for a donor with musical talent.

Nine months later, each woman gives birth to a very unusual baby. Seeking an answer as to why the kids are so special, the couples meet again by chance at a pediatrician's office. Nikki and Gretchen become friends, but can Josh and Mike overcome their mutual animosity long enough to discover the secret of their mutual donor who fathered their children?

And the search is on!

Who—and what—is Donor Number 333?

U F uh-O started out as a screenplay for a producer looking for a science fiction comedy like "Galaxy Quest" or "Men in Black" and became a novella. Prose writing is so much more fun than scriptwriting! UPDATE: I've rewritten the screenplay for another new producer. I'll put the new screenplay up as an ebook later in 2022.

U F uh-O is on BarnesandNoble, US Kindle, Canada Kindle, UK Kindle, Apple, Kobo, and Smashwords.

U F uh-O is also on Amazon.com in Australia, France, Germany, Italy, Spain, Brazil, Japan, India, Mexico, and Netherlands.

5 star review on Amazon for U F uh-O
A very clever humorous novella! July 26, 2013
Format:Kindle Edition|Amazon Verified Purchase
I had never read any work by this author, but I met Lisa on Facebook and Twitter and she seemed a very nice person. For that reason, I thought I would try one of her books, but I really had no expectations; being a nice person is no proof that she will be able to write. As it turns out, she also was an excellent author!
By about the time I was halfway through the book, I found myself very involved with the characters and wholeheartedly cheering them on! I took a chance on someone I never read before and was rewarded by finding another favorite author. It wasn't until I had finished the book and read the end material that I learned that she had many other works published and some with pending movie contracts.
I would highly recommend this 82 page funny novella to anyone who enjoys a well written book with excellent character development in unusually subtle ways. Read this little book and I'm sure you will be as pleasantly surprised as I was. I am looking forward to reading more of her works as I'm sure you will be, too!
If you enjoy a work, please "Like" it, add five stars, write a review on the site where you acquired it, blog it, Tweet it, post it, and share the word with your family and friends.
Your participation really matters.
Thank you for your readership!
Join me on my Patreon page at https://www.patreon.com/bePatron?u=23011206.
Donate a tip from your PayPal account to http://paypal.me/lisamasonthewriter
Lisa Mason, the Fantasy and Science Fiction Author
Books by Lisa Mason
Stories, Novelettes, Screenplays by Lisa Mason
Interviews, Reviews, Storybundles, Blogs, Next Thing
Art, Jewelry, and Mobiles by Tom Robinson
Cats, Past and Present
All content copyright 2000-2022 by Lisa Mason. All artwork copyright 2000-2022 by Tom Robinson
Join me on my Patreon page at https://www.patreon.com/bePatron?u=23011206.
Donate from your PayPal account to http://paypal.me/lisamasonthewriter.
Comments, questions, serious offers, lavish praise?
Contact Lisa Mason. All rights reserved.
For rights and publicity inquiries, please go to The Media Room.