The Next Thing

Cyberweb, the sequel to Arachne, is now available as an ebook in 2017. I may curate an A.I. Storybundle in the Spring, 2017.
Oddities, a collection of previously published and new short stories is forthcoming in Winter, 2017.

Plus a new high-concept science fiction is in progress.

Suzanna Moore reports that Eon's Embrace, Book 2 of the Eon Trilogy, is in the works.
Also forthcoming! The Labyrinth of Illusions, Volume 2 of the Abracadabra Series. The bestselling modern fantasy starring magician and magic college student Abby Teller continues.
I hear that the 2018 WorldCon will be held in San Jose, California. I don't go to conventions often, but I may make plans to be there.
If you enjoy a work, please "Like" it, add five stars, write a review on the site where you acquired it, blog it, Tweet it, post it, and share the word with your family and friends.

Your participation really matters.
Thank you for your readership!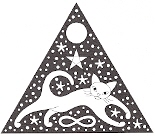 All content copyright 2000-2017 by Lisa Mason. All artwork copyright 2000-2017 by Tom Robinson.
Comments, questions, serious offers, lavish praise?
Contact Lisa Mason. All rights reserved.
For rights and publicity inquiries, please go to The Media Room.