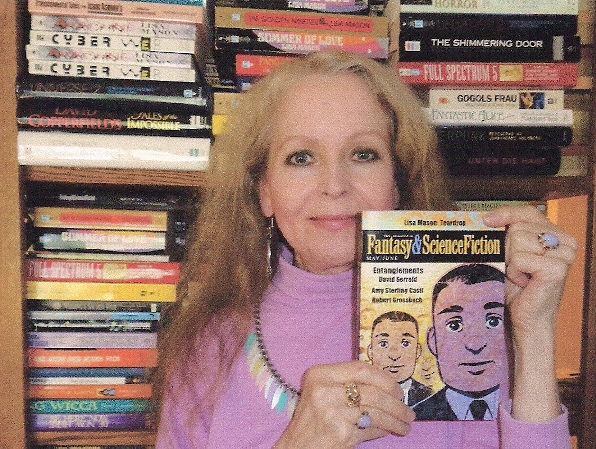 "

Teardrop

" in The Magazine of Fantasy and Science Fiction
Last week, I was emailing a friend who also will be publishing a story in F&SF. He was very supportive of me and "Teardrop."

I knew this friend during the twenty years I was traditionally publishing stories and books. "Publishing" is one of those words that, these days, requires a qualifier. "Vegetables" are now conventional or organic. "Telephones" are landline or mobile. And "publishing" is traditional or digital, legacy or indie.

I explained to my friend that I stepped away from traditional publishing for some years after my Omni story, "Tomorrow's Child," optioned and then sold outright to Universal Pictures.

Like many of my fellow authors, I was both discouraged about traditional publishing and delighted with my movie sale. I decided to go off and learn how to write screenplays. I wrote half a dozen scripts. Some got noticed, some didn't. But the Hollywood machine is even tougher to deal with than New York publishing.

And I missed being in print.
My friend is now a game developer and we commiserated that, while there's money in script-writing and game-developing, the creator remains pretty much invisible behind the creation. We agreed there's nothing like the satisfaction of seeing one's name and work in print!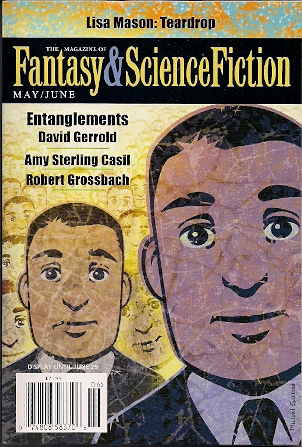 The May-June 2015 issue of The Magazine of Fantasy and Science Fiction is available now by subscription.

Here are the contents:

Teardrop by Lisa Mason (New York Times Notable Book Author and Philip K. Dick Award Finalist)
Entrepreneurs by Robert Grossbach
Entanglements by David Gerrold (multiple-award winning author and screenwriter of The Martian Child)
Trapping the Pleistocene by James Sarafin
The Laminated Man by Albert E. Cowdrey
Today's Smarthouse in Love by Sarah Pinsker
Four Seasons in the Forest of Your Mind by Caroline M. Yoachim
In the Time of Love by Amy Sterling Casil
A Turkey with Egg on His Face by Rob Chilson
Books to Look For by Charles de Lint
Book Reviews by Elizabeth Hand
Films: Changelings by David J. Skal
What a line-up!
So there you have it, my friends. Here's the link to order an F&SF subscription or just this issue: https://www.sfsite.com/fsf/subscribe.htm
Look for the May-June 2015 issue on the newsstands May 5, 2015.
And here's the link to download the Kindle "digest" edition for FREE: http://www.amazon.com/dp/B004ZFZCKY/. Please note that this is NOT the full issue, but only a digest. But the digest does contain "Teardrop," so check it out! Only until June 15, 2015.
The Magazine of Fantasy and Science Fiction also interviewed me online about "Teardrop."
New! Here's an October, 2015 BestSF.net review of "Teardrop."
"The story follows NanaNini, living on a planet which we humans have discovered, and you can guess that this is not necessarily good news for the indigenes. She is quite content in having a relationship with one of those humans, but he isn't typical of his species, and when others turn up with an altogether more business-like attitude to her planet and its resources, conflict ensues.
Mason creates a believable setting, and a believable protagonist who isn't just a human with different skin tone/pointy ears and so forth, and it's an altogether good read." http://bestsf.net/the-magazine-of-fantasy-and-science-fiction-mayjune-2015/
That's what I do, my friends. Create relatable characters who live in a consciousness and reality that isn't human. Don't know why.
Join me on my Patreon page at https://www.patreon.com/bePatron?u=23011206.
Donate a tip from your PayPal account to http://paypal.me/lisamasonthewriter
Lisa Mason, the Fantasy and Science Fiction Author
Books by Lisa Mason
Stories, Novelettes, Screenplays by Lisa Mason
Interviews, Reviews, Storybundles, Blogs, Next Thing
Art, Jewelry, and Mobiles by Tom Robinson
Cats, Past and Present
All content copyright 2000-2022 by Lisa Mason. All artwork copyright 2000-2022 by Tom Robinson.
Join me on my Patreon page at https://www.patreon.com/bePatron?u=23011206.
Donate a tip from your PayPal account to http://paypal.me/lisamasonthewriter
Comments, questions, serious offers, lavish praise?
Contact Lisa Mason. All rights reserved.
For rights and publicity inquiries, please go to The Media Room.