Books
These are my traditionally published titles (so far). Please see Stories for recent magazine publications.
Now that Bast Books is publishing these books below and beyond, I'm listing individual titles with their own links. Check it out!
My new short novel, One Day in the Life of Alexa, is in print, as is my classic from some years ago, Summer of Love. Update: The Gilded Age is back in print, as is my urban fantasy, The Garden of Abracadabra. Order your own copy directly from Bast Books, at your local bookstore, or on Amazon.com. Oh, yes! My first story collection, Strange Ladies: 7 Stories, is now in print.
Visit my Amazon Author Page for one-stop shopping and all the links to print books and ebooks.
San Francisco, 1967. A troubled teenage runaway. A half-black, half-white hip merchant with a shameful secret. And an angry young man from the far future on an impossible mission. They have only the summer to save the Universe from annihilation.

May, 1994 (Bantam Spectra Books)

A San Francisco Chronicle Recommended Book of the Year
A Philip K. Dick Award Finalist

"Captures the moment perfectly." The San Francisco Chronicle
San Francisco, 1895. A madam with the busiest brothel in town has a feisty mind of her own. A young man, the alcoholic heir to a dissipating fortune, is hell-bent on self-destruction. And a zealot time-traveler from the far future is conscripted to save her own life and the life of her child—in the past. Can they all come together to save the future from destruction?

June, 1995 (Bantam Spectra Books)

A New York Times Notable Book
A New York Public Library Recommended Book

"A winning mixture of intelligence and passion." The New York Times Book Review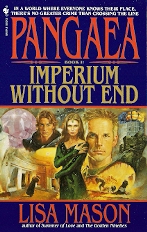 Pangaea, Book I: Imperium Without End

Book One of a powerful visionary epic from a celebrated voice in science fiction. Pangaea, an ancient world stabilized over millennia by the laws of the all-powerful Imperium, prides itself as the apex of civilization. Society is divided into rigid castes, entertained by state-controlled dreams, and kept "pure" by state-run genetic laboratories. But the global landmass of Pangaea is shaking with cataclysmic earthshocks foretold by the Oracle, forbidden passions infiltrate the sharemind of the Imperium, and the ancient order is threatened by desperate and violent revolutionaries.

May, 1999 (Bantam Spectra Books)

"Mason's tale is filled with an operatic assemblage of exotic characters, dramatic events, and glorious language." The Philadelphia Inquirer
Pangaea, Book II: Imperium Afire

Book Two in an epic of astonishing originality by one of the most imaginative voices in science fiction. Includes the complete Orb of Eternity and all thirty of Tom Robinson's drawings of the Facets.

A world in cataclysm. A tyranny in turmoil. An ancient oracle foretelling apocalypse—or redemption.

May, 2000 (Bantam Spectra Books)

"I couldn't put the blasted book down. A compelling, complex world written with fiery eloquence." Blue 7

"In the best SFnal tradition, Lisa Mason turns our most basic assumptions about life upside down in this truly exotic, erotic world." Kigomacher
Introducing Carly Nolan, an idealistic young lawyer in the hellish telespace of the future. The redoubtable Pr. Spinner, a robot therapist who latches onto Carly when she seeks psychiatric help after nightmares crash her telelink. And D. Wolfe, Carly's mentor who's got more on his mind than helping her with her career crisis.

January, 1990 (William Morrow hardcover, Avon Books mass market paperback, Eos trade paperback) Japanese edition, 1991 (Hayakawa)

"Imagine 'L.A. Law' scripted by William Gibson." San Francisco Chronicle

"Powerful. . . .entertaining. . . .imaginative." People Magazine

"A cyberpunk classic." The Boston Globe
Carly Nolan, now a disgraced telelinker. Her robot therapist who harbors secrets about telespace. A handsome urban aborigine drawn to Carly against everything he believes in. And a deadly conflict among AI entities who would destroy humanity—or preserve the life-force.

June, 1995 (William Morrow hardcover, Avon Books mass market paperback, Eos trade paperback)

"Mason's endearing characters and their absorbing adventures will hook even the most jaded SF fan." Booklist

"Mason spins an entertaining tale." Locus
All content copyright 2000-2018 by Lisa Mason. All artwork copyright 2000-2018 by Tom Robinson.
Comments, questions, serious offers, lavish praise?
Contact Lisa Mason. All rights reserved.
For rights and publicity inquiries, please go to The Media Room.
Booksellers, Bookstores, Librarians, Libraries, and Book Distributors, please go to the Certified Reseller's Page.
Forthcoming! The Bast Bookstore and Gallery!