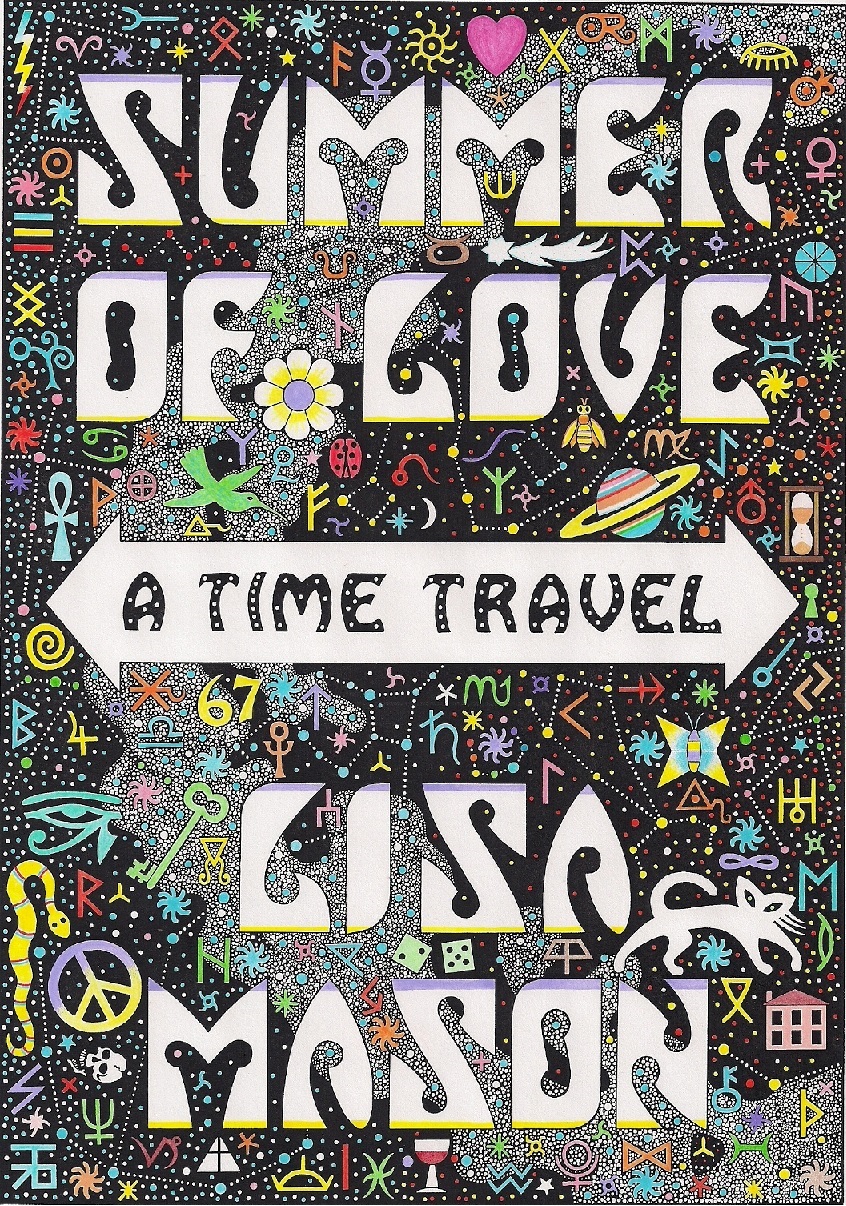 A Philip K. Dick Award Finalist and San Francisco Chronicle Recommended Book

The year is 1967 and something new is sweeping across America: good vibes, bad vibes, psychedelic music, psychedelic drugs, anti-war protests, racial tension, free love, bikers, dropouts, flower children. An age of innocence, a time of danger: The Summer of Love.

San Francisco is the Summer of Love, where runaway flower children flock to join the hip elite and squares cruise the streets to view the human zoo.

Lost in these strange and wondrous days, teenager Susan Bell, alias Starbright, has run away from the straight suburbs of Cleveland to find her troubled best friend. Her path will cross with Chiron Cat's Eye in Draco, a strange and beautiful young man who has journeyed farther than she could ever imagine.

With the help of Ruby A. Maverick, a feisty half black, half white Hip merchant, Susan and Chi discover a love spanning five centuries. But can they save the world from demons threatening to destroy all space and time?
A harrowing coming of age. A friendship ending in tragedy. A terrifying far future. A love defying time. And a gritty portrait of a unique era in American history.
$15.95 for a beautiful trade paperback. $7.99 for the epub, mobi, or pdf ebook. $50.00 for an autographed print book.
To order the PRINT BOOK of Summer of Love from Amazon, please click here https://www.amazon.com/Summer-Love-Travel-Lisa-Mason/dp/1548106119/.
To order the PRINT BOOK from Barnes and Noble, click here https://www.barnesandnoble.com/w/summer-of-love-a-time-travel-lisa-mason/1104160569.
Booksellers, book stores, librarians, libraries, book distributors! Please go to the Certified Reseller Page to find out how you may open a wholesale account at our printer and order this print book at a discount for your venue.
Ask your local bookstore to order a copy, here's the ISBN 978-1548106119
Summer Of Love is an ebook on BarnesandNoble, US Kindle, Canada Kindle, UK Kindle, Australia Kindle, Smashwords, Apple, and Kobo.

Summer of Love is also an ebook on Amazon.com in France, Germany, Italy, Spain, Brazil, Japan, India, Mexico, and Netherlands.
To order your autographed copy of Summer of Love from Bast Books:

Email your name, shipping address, and the title you want to purchase to Bast Books.
Set up your PayPal account at https://www.paypal.com/us/home.
Link your credit card or bank account, then follow the instructions on how to transfer a payment.
Send your payment of $50.00 to https://www.paypal.com/paypalme/lisamasonthewriter/
As soon PayPal notifies us your payment has been sent, we'll package your purchase and ship it to you the next business day.
Shipping and handling within the contiguous United States is free!
Brand-new 2018 review of SUMMER OF LOVE at http://sfbookreview.blogspot.com/2018/02/summer-of-love-by-lisa-mason.html
"Ever since the Save Betty project completed there has been degradation in the archives. The Luxon Institute for Superluminal Applications (LISA, still love that acronym) has determined that San Francisco in 1967 is a hot dim spot. They commission the Summer of Love project. Twenty-one year old Chiron Cat's Eye in Draco will t-port from 2467 to the summer of love where he is to find the Axis, a teenage girl from the Midwest will have important descendants, and protect her through the summer. This Susan Stein takes an alias, so Chiron has only probabilities to know if he finds the right girl.
In 1967 Susan receives a postcard from Nance, aka Penny Lane, who is in San Francisco. Her parents find the postcard, tear it up and burn it. She runs away that night and takes the name Starbright. She arrives hoping to see Penny Lane, but instead meets up with Stan the Man, manager of the Double Boogie band. She is invited to live with them in a house that is a constant party. She loves it, but a week later Stan hooks up with someone new. She meets Ruby again and Ruby takes her in. That first night Chiron saw an eye symbol by Ruby's shop, decided to hang around there and Ruby let him sleep on the couch. He's not sure that Starbright is the Axis, but there is a high probability.
Without being preachy major themes in the book include the environment, population control, women's rights and addiction. These were put into the setting of real life 1967. Street names referenced in the book exist and the Grateful Dead did have a concert there on August 22. I enjoyed the story without any nostalgic feeling, other than references to old Star Trek episodes and other SF works.
I really enjoyed the book. It was a little icky when Starbright was staying at the Double Boogie house, but after that it was excellent and that first chapter or two set up encounters throughout the rest of the book. I loved all three of the main characters, Starbright, Chiron and Ruby." By John Loyd
"Captures the moment perfectly and offers a tantalizing glimpse of its wonderful and terrible consequences." The San Francisco Chronicle

"A fine novel packed with vivid detail, colorful characters, and genuine insight." The Washington Post Book World
"Remarkable. . . .the intellect on display within these psychedelically packaged pages is clear-sighted, witty, and wise." Locus Magazine

"Mason has an astonishing gift. Her chief characters almost walk off the page. And the story is as significant as anyone could wish. This book will surely be on the prize ballots." Analog Magazine

"A priority purchase." Library Journal
Here's another review from The Magazine of Fantasy and Science Fiction by Charles de Lint, plus reviews from Locus Magazine and award-winning author, Lewis Shiner.
Brand-new Review! Steve Fahnestalk, who has written a hundred reviews for Amazing Stories, just reviewed Summer of Love. Wow! Check it out!

Twenty five-star Amazon reader reviews

"This book was so true to life that I felt like I was there. I recommend it to anyone."
"More than a great science-fiction, a great novel as well."
"My favourite SF book of all time: beautiful, cynical, and completely involving" From Goodreads

New Five-Star Amazon Review: "Just checked to see if this book was on Kindle. It has been many years since I've read it but I remember it as one of my very favorite books. Time to go back and re-read it!!!"
5 stars Calling All Fans
"Summer of Love is an important American literary contribution that may very well have a strong and viable fan base. Where are you? Join us!
This novel is loads of fun to read. The majority of the characters are hippies from the 1960s who meet a stranger from the future who's looking to save his world. This fellow, Chiron, needs to find a troubled adolescent teen named Susan (a.k.a. Starbright) for a very compelling reason. The book has a great deal to offer: swift action, lovable characters, spiritual insight, and well-chosen primary documents such as essays, poems, and news articles which round out the reader's understanding of the worldview of the novel.
Some books talk about the sixties. This novel IS the sixties, thanks to the spirit and scholarship of its author. And, as one reader aptly put it, 'the sci-fi stuff is just plain off the hook.' Get a copy. Most people who have read it seem to respect it and enjoy it every bit as much as I do."

5 stars I think it's a great book. The level of character development is much higher than what we have come to expect in Scifi-Fantasy.
What I can add is that Lisa Mason has done a meticulous job of researching what the sixties were REALLY like, not the candy coated version of them which one normally sees in the media. That one could go to the Fillmore and see Quicksilver Messenger Service, Big Brother and the Holding Company, the Jefferson Airplane, legendary groups almost any night. The idea that this quality of music would last forever. The naive optimism about the future mixed with the omnipresent paranoia about the Man or the System. The wide open experimentation with living styles. The idea that anyone who dressed like you was your brother/sister. The dark side of "free love". That someone with bell-bottomed pants and bare feet would hitchhike across the country to San Francisco with little or no money because a friend was there (somewhere) and a record said in the "Summer of Love", all you needed was a "Flower in Your Hair". The individual acts of giving and charity mixed with the fundamentally parasitic nature of the "Love" generation.
Ms Mason's love of San Francisco shines through her story so one can taste and feel "Haight Ashbury" locale of the 60's.

5.0 out of 5 stars Born in the wrong decade...shed a lot of light on my ideas This book is a wonderful book. I've read it approximately 5 times….My mom always used to tell me I was born in the wrong decade, and I believe that is true. This book was so true to life that I felt like I was there. I recommend it to anyone.

5.0 out of 5 stars More than a great science-fiction, a great novel as well This is a wonderful book for anyone who's ever dreamed of time travel. It also shows you a first-hand view of the Summer of Love. Mason does an excellent job of describing her characters and how they feel, even when under the influence. Her view of the future seems realistic enough (although we'll never know) and the way she twists the plot around Chiron, Starbright, Ruby, and the other characters is quite clever. All in all this is a book that I will read many times.
If you enjoy a work, please "Like" it, add five stars, write a review on the site where you acquired it, blog it, Tweet it, post it, and share the word with your family and friends.
Your participation really matters.
Thank you for your readership!
Lisa Mason, the Fantasy and Science Fiction Author
Books by Lisa Mason
Stories, Novelettes, Screenplays by Lisa Mason
Interviews, Reviews, Storybundles, Blogs, Next Thing
Art, Jewelry, and Mobiles by Tom Robinson
Cats, Past and Present
All content copyright 2000-2019 by Lisa Mason. All artwork copyright 2000-2019 by Tom Robinson.
Comments, questions, serious offers, lavish praise?
Contact Lisa Mason. All rights reserved.
For rights and publicity inquiries, please go to The Media Room.
Booksellers, Bookstores, Librarians, Libraries, and Book Distributors, please go to the Certified Reseller's Page.