Five stars on Facebook and Amazon! "Great work!"
"Hilarious, provocative, profound."
As I mulled over my published short fiction, I found seven wildly different stories with one thing in common--a heroine totally unlike me. I'm the girl next door. I have no idea where these Strange Ladies came from.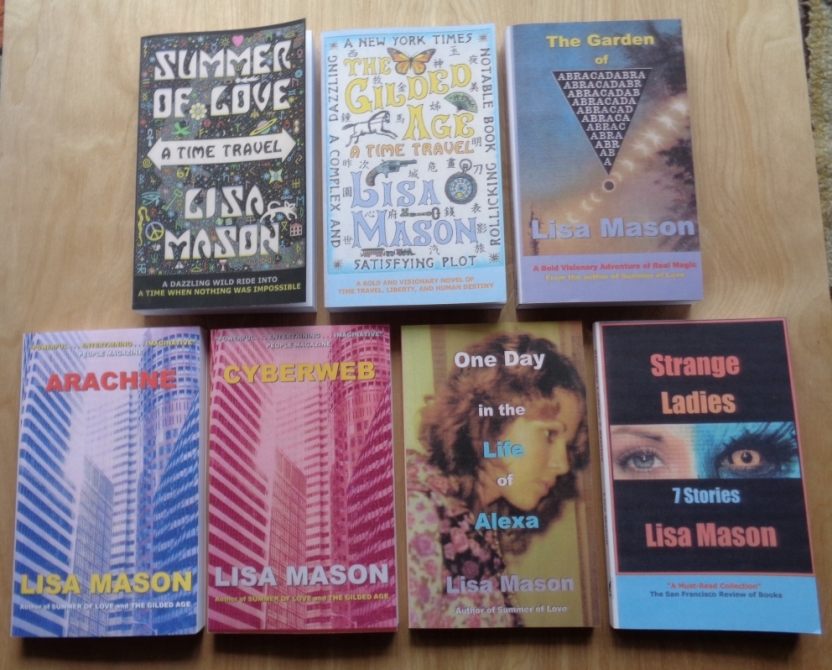 In The Oniomancer (Asimov's Science Fiction Magazine), a Chinese-American punk bicycle messenger finds an artifact on the street. In Guardian (Asimov's Science Fiction Magazine), an African-American gallerist resorts to voodoo to confront a criminal. In Felicitas (Desire Burn: Women Writing from the Dark Side of Passion [Carroll and Graf]), an immigrant woman faces life as a cat shapeshifter. In Stripper (Unique Magazine), an exotic dancer battles the Mob. In Triad (Universe 2 [Bantam]), Dana Anad lives half the time as a woman, half as a man, and falls in love with a very strange lady. In Destination (The Magazine of Fantasy and Science Fiction), a driver takes three strangers from a ride board on a cross-country trip as the radio reports that a serial killer is on the loose. In Transformation and the Postmodern Identity Crisis (Fantastic Alice, New Stories from Wonderland [Ace]), Alice considers life after Wonderland.
Strange Ladies: 7 Stories is on Barnes and Noble Nook, Smashwords, Apple, and Kobo.
Strange Ladies: 7 Stories is also on Kindle on US Kindle, Canada Kindle, UK Kindle, Australia, France, Germany, Italy, Spain, Brazil, Japan, India, Mexico, and Netherlands.
"Strange Ladies: 7 Stories offers everything you could possibly want, from more traditional science fiction and fantasy tropes to thought-provoking explorations of gender issues and pleasing postmodern humor….This is a must-read collection."
—The San Francisco Review of Books
"Kyle Wylde and I are thrilled to have found such a talented, dedicated, and brilliant collection of shorts in Strange Ladies: 7 Stories….Your style/craft is highly impressive."
—Jeanne-Mary Allen, Author
"Lisa Mason might just be the female Philip K. Dick. Like Dick, Mason's stories are far more than just sci-fi tales, they are brimming with insight into human consciousness and the social condition….Strange Ladies: 7 Stories is a sci-fi collection of excellent quality. If you like deeply crafted worlds with strange, yet relatable characters, then you won't want to miss it."
—The Book Brothers Review Blog
5.0 out of 5 stars on Amazon.com Great science fiction short stories! November 1, 2013
"Fantastic book of short stories. All have some science fiction/fantasy elements. One is about a road trip with strangers, a bit more on the horror end of the spectrum, another is more humorous, based on Alice in Wonderland. One is a fascinating imagining of alien gender, and how it might differ from human. All have been published in various magazines and anthologies before, but were hard to find until this great collection. Recommended."
New Review! "I'm quite impressed, not only by the writing, which gleams and sparkles, but also by [Lisa Mason's] versatility . . . Mason is a wordsmith . . . her modern take on Lewis Carroll's Alice in Wonderland is a hilarious gem! [This collection] sparkles, whirls, and fizzes. Mason is clearly a writer to follow!"
—Amazing Stories
Brand-new Review: 5.0 out of 5 stars This one falls in the must-read category, an appellation that I rarely use.
May 4, 2018
"I have been a fan of Lisa Mason from the beginning of her writing career, but I confess that I often overlook her short fiction. That turns out to have been a big mistake! I have just read Strange Ladies thinking I would revisit a few old friends and discover a few I had missed. Well, I had missed more than I had thought, and I regret that oversight. This collection was so much fun! I loved each and every story and enjoyed their unique twists, turns, and insights. I thank Ms Mason especially, though, for the high note ending with the big smiles in Transformation and the Postmodern Identity Crisis. Uh oh, I guess I'm still am a child of the summer of love. Well played. You made me laugh at the world and myself."
Brand-new Review: Naticia
5.0 out of 5 stars Great collection that will make you think
Format: Kindle Edition "My definition of a good short story is one that you keep thinking about for days, and this book had several of them."
If you enjoy a work, please "Like" it, add five stars, WRITE A REVIEW on the site where you acquired it, blog it, Tweet it, post it, and share the word with your family and friends.
Your participation really matters.
Thank you for your readership!
Join me on my Patreon page at https://www.patreon.com/bePatron?u=23011206.
Donate from your PayPal account to http://paypal.me/lisamasonthewriter.
Lisa Mason, the Fantasy and Science Fiction Author
Books by Lisa Mason
Stories, Novelettes, Screenplays by Lisa Mason
Interviews, Reviews, Storybundles, Blogs, Next Thing
Art, Jewelry, and Mobiles by Tom Robinson
Cats, Past and Present
All content copyright 2000-2022 by Lisa Mason. All artwork copyright 2000-2022 by Tom Robinson.
Join me on my Patreon page at https://www.patreon.com/bePatron?u=23011206.
Donate a tip from your PayPal account to http://paypal.me/lisamasonthewriter
Comments, questions, serious offers, lavish praise?
Contact Lisa Mason. All rights reserved.
For rights and publicity inquiries, please go to The Media Room.