Jewelry by Tom Robinson
Bespoke Handmade Jewelry by Tom Robinson is now available directly to you on this webpage. Tom is renowned for his unique, meticulous, finely crafted, and brilliantly designed work deeply informed by his formal study of, and love for, abstract art.
To purchase a bespoke piece (subject to availability) on this page:
Email your name, shipping address, and the piece you want to purchase to Lisa Mason.
Please note: All items are one-of-a-kind and subject to availability.
Set up your PayPal account at https://www.paypal.com/us/home.
Link your credit card or bank account, then follow the instructions on how to transfer a payment.
Send your PayPal payment to http://paypal.me/lisamasonthewriter
As soon PayPal notifies us your payment has been sent, we'll package your purchase and ship it to you the same business day.
Shipping and handling within the contiguous United States is free!
Handmade Modern Sculpture Necklace # 8

This unique Artist-made necklace is 26 inches long with 55 handcrafted one-of-a-kind beads. It is strung on 49 miniature stainless steel strands ("Tiger Tail"), the highest quality wire available. The locking hook & eye clasp is original and was hand-formed from art brass.
The Artist guarantees that the work is a one-of-a-kind original and is handmade by him in his studio. No other design like this will ever be made.
The bead designs were inspired by midcentury forms that Tom Robinson remembered as a child from Los Angeles—the art, architecture, and color along with the combination of materials for everyday objects. These 1950s aesthetic elements were absorbed into the thought and creation of each bead.
Bead Materials: # 14, 24, and 44 are formed from sheets of acrylic. # 12, 23, 27, and 29 are laminated acrylic sheets from an old sign shop in San Francisco's Chinatown. # 31, 51, and 52 are laminated acrylic. # 30 and 35 are file-formed Plexiglas acrylic. # 55 is aluminum from a recycled curtain rod. # 2, 8, 19, 40, 48, 50, 53, and 54 are file-formed Avonite polymer resin. # 7, 32, 38, and 49 are file-formed brass. # 11, 22, 28, and 46 are file-formed brass with hand-carved unique symbols. # 1, 5, 16, and 18 are hand-formed bronze. # 9 is celluloid from an antique mahjong piece which was found in a now vanished curio shop in North Beach, along with # 45 and 47, hand-carved from 1930s celluloid dice. # 39 is also celluloid. # 20 is made of copper. # 3, 10, 15, and 26 are ebony remnants from an Oakland luthier. # 13 is sculpted ebony with a carved sterling silver hallmark medallion. # 6 is mahogany. # 42 is antique oak. # 4, 21, and 37 are from modern resin dice. # 17, 33, and 41 are hand-carved resin. # 36 is hand-etched and enamel painted from a resin die. # 25 and 43 ("Tiki") are hand-carved terra cotta. # 34 is wood from a French wine crate.
Care: Clean the necklace with a slightly damp cotton cloth. Do not get the wooden beads wet. The brass beads will oxidize over time, giving them a warm patina. Includes a story sheet with a hand-painted design and polishing cloth. The cloth will polish the brass beads up like gold. Never wear in the rain.
$ 5,700.00 (or best offer)

[Lisa Mason: I've worn Tom Robinson jewelry for many years out to cafés and parties and even just shopping. Take my word, you will get noticed everywhere you go. Why? Because every piece carries Tom Robinson's signature brand of style, excellent design, and expert, meticulous craftsmanship and people see it at once. You'll stand out in any room where women are wearing that boring old gold and diamonds!]
ON SALE NOW! FOR AN ARTISTIC AND SPECIAL PERSON!
The background is a painting by Tom Robinson's father which he did in 1958, Los Angeles.
"Europa" Hand-Carved Sculpture Pendant # 1
This unique artist-made brass and ebony Pendant is an abstract composition of Jupiter's second Galilean moon, Europa. The moon was named after the Greek myth about the daughter of Phoenix, a Phoenician princess. Europa was carried off by Zeus in the form of a handsome bull to Crete. There she bore him Minos, who became the King of Crete and father of the fearsome Minotaur, who ruled the Labyrinth.
The 53 mm Pendant was completely hand-carved by the Artist using miniature power tools and jewelry hand tools. The brass carving is held in a hand-formed ebony bezel with 8 decorative rivets of bronze, copper, and silver. The inside rim is waterproofed with beeswax and sealed with black epoxy putty. The 33" leather cord was handmade in Greece with two unique, micro-riveted brass sliders.
The Europa Pendant is an original design and will not be recreated ever again. Clean your Pendant with a slightly damp cotton cloth, dry it, then finish with the included polishing cloth. Do not wear in the rain. If the cord becomes frayed with time, replace it immediately.
ON SALE NOW! FOR AN ARTISTIC AND SPECIAL PERSON!
$ 1,700.00 (or best offer)
[Lisa Mason: You won't see a piece designed quite like this anywhere. Europa is brass with decorative rivets in contrasting precious metals for an avant-garde look set in a gorgeous, thick ebony bezel. Expect double-takes and plenty of compliments!]
Handmade Modern Sculpture Necklace # 7
Unique studio-made 26" necklace with 55 hand-crafted beads. Materials are: Acrylic, aluminum, Avonite polymer resin, brass, bronze, celluloid, ebony, mahogany, oak, Plexiglas acrylic, resin, hand-carved sterling silver, terra cotta, recycled wood, and stainless steel cable. Includes story sheet with hand-painted design and polishing cloth.
The Artist guarantees that the work is a one-of-a-kind original and is handmade by him in his studio. No other design like this will ever be made.
SOLD $ 7,000.00
Sterling Silver Artist's Manikin Earrings (Dancers)

An Artist's Manikin or Lay Figure is a small wooden doll with jointed articulated limbs, which allow her to assume every desired attitude and pose. Constructed in accordance with the laws of anatomy and used by Artists for the study of proportions of the human body.
The Dancer Earrings are 2 3/32" (53 mm) long and have 60 handcrafted parts.
2 Ear Wires made from 19-gage (1 mm) high quality (non-magnetic and hypoallergenic) stainless steel wire.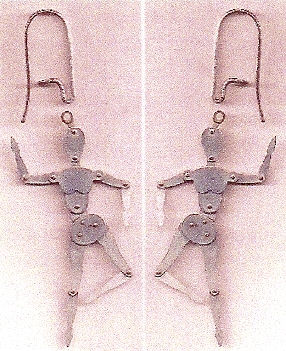 2 Bails file-formed of 18-gage nickel silver for strength.
24 Rivets are from 20-gage sterling silver (.925) wire.
32 Body Pieces fabricated from 26-gage sterling silver sheet, traced from custom-formed copper patterns.
All of the Parts were cut, drilled, filed, hammered, and polished using only small jewelry hand tools. No machines or electric tools were used.
Completely handmade by the Artist in California.

$ 450.00 SOLD!

[Lisa Mason: I cried when Tom placed The Dancers in the gallery. They are so beautiful and delightful with personalities all their own. I have a prototype pair so I can't keep everything Tom makes! He spent months redesigning the prototype so the earrings truly dance on your ears. New! Tom is working on another pair with a multimetal look. Due to the rising prices of metals, the earrings will cost $ 750.00]
Bronze Sculpture Ring

Bronze, an alloy of copper and tin, is one of the hardest metals. It has been used since antiquity for most cast art sculpture and was created over 5,000 years ago by the Sumerians for artifacts, tools, and weapons. Copper and tin have the magical powers of Venus and Jupiter. Bronze has an entire Age named after it.

The design is an original abstract composition of universal symbols: arrow, circle, cross, dot, line, spiral, square, triangle, wave, and zigzag. The Artist's hallmark is to the left of the triangle. The Ring was completely hand-carved by the Artist using miniature power tools and jewelry hand tools. This is a unique design and will not be used again.

Polishing will make it look like solid gold. Over time, oxidation will give it a warm brown patina, but may also stain your finger. (It's non-toxic and washes off easily.) This Ring should be worn only on special occasions.
$ 1,000.00 (or best offer)
[Lisa Mason: Dazzling! The Ring is a size 10, so it may fit a gentleman's hand. Ladies, you may also wear it on your second or third fingers. The great J.R.R. Tolkien wrote the classic fantasy epic with quests for a Magic Ring and battles fought over its possession. Don't miss this chance to possess your very own Bronze Sculpture Ring.]

The Silver Ankh
Probably the best known of all ancient Egyptian symbols, it dates to the cults of Isis and Osiris in the early Dynastic period. The Ankh is the symbol of Eternal Life and is always shown held in the hands of deities. In Egypt, silver was more rare than gold.

This limited edition Ankh was hand-cast in solid sterling silver (.925), filed and finished completely by the Artist's hands with no machines. The leather cord is the finest made in Greece with two solid sterling sliders. Dimensions: 2 3/8" by 1". A polishing cloth, along with a suede box, is included.
$ 550.00 (or best offer)
[Lisa Mason: Wear this beautiful, ancient symbol and enjoy the good luck that will come your way. Find this exquisite solid silver ankh only from Tom Robinson. He has three more cast pieces in inventory, awaiting his expert hand-polishing and finishing. The price of silver has skyrocketed and forthcoming pieces may be priced a bit higher.]
Modern Tiki Pendant
Tiki was a god and the first man in ancient Polynesian mythology. Tiki is also the god and muse for Artists: Picasso acquired a Tiki in 1910 and owned it through his long career. The art of Ernst, Gaugin, Klee, and Miro were also inspired by the magic of Tiki.

This unique Tiki Pendant was hand-crafted by Tom Robinson using miniature power tools and small jewelry hand tools. The materials are aluminum, bone, bass, bronze, copper, ebony, leather, sterling silver, stainless steel, and turquoise. A secret stash is inside. This is an original design and will not be created again. Dimensions: 2 1/4" by 1". Polishing cloth and beautiful hardwood box included. Subject to availability.
$1,500.00 (or best offer)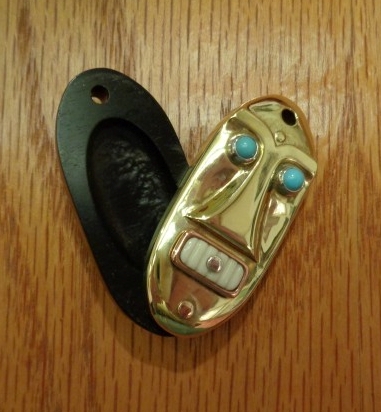 About Tom Robinson
Born in Los Angeles, Tom Robinson earned degrees in Fine Arts from the San Francisco Art Institute and the Academy of Art College, and a Graduate Jeweler's Degree from the Revere Academy of Jewelry Arts. He lives in the San Francisco Bay Area with his wife, the fantasy and science fiction author, Lisa Mason.
For inquiries and purchase information, please go to The Media Room.
Sold! Tom Robinson Jewelry Placed with Collectors
Chroma Set: Necklace ($ 3,500), Charm Bracelet ($ 350), Link Bracelet ($ 450)
Red and black Necklace ($ 7,000) with Moon Earrings ($ 750), every bead, clasp, and ear-wire completely handmade.
Silver Cat Earring ($ 750)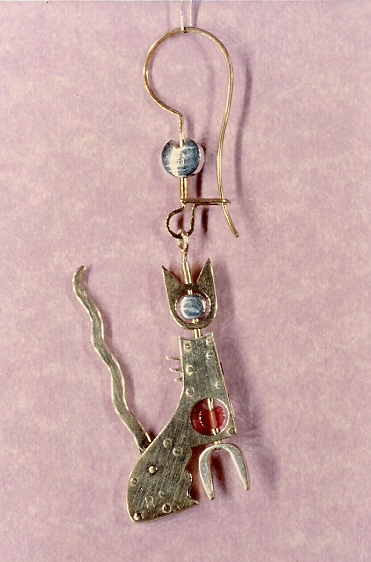 (Enlarged to show detail)
Link Bracelet ($ 1,000)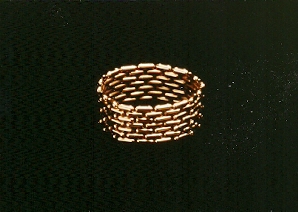 Art, Jewelry, and Mobiles by Tom Robinson
Lisa Mason, the Fantasy and Science Fiction Writer
Books by Lisa Mason
Stories, Novelettes, Screenplays by Lisa Mason
Interviews, Reviews, Storybundles, Blogs, Next Thing
Cats, Past and Present
Art © 2000—2022 by Tom Robinson.
Content © 2000—2022 by Lisa Mason.