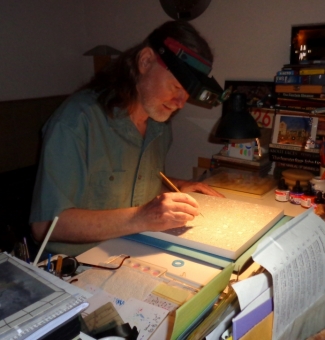 About Tom Robinson

I was born in Los Angeles in 1950 and raised in the foothills of the San Gabriel Mountains. My ancestors were of Celtic and Cherokee blood. My mother was a stage actress and singer, my father was an artist and a plastics research mechanic at the Lockheed Skunk Works.
I was a witness to the birth of California's mid-century art, culture, and design. The streamlined architecture, cars, colors, and fashions were all very modern back then. At the age of seven, I remember watching my father create his epoxy resin paintings, fiberglass furniture, mobiles, and sculptures. He inspired me to be an artist and I did not disappoint him.
We made several visits to the Pasadena Museum of Art where I saw the latest trends of the time. It was the apex of California's modern art scene. I was fascinated by our copies of Art in America magazine.
The early black and white rock-and-roll and the first color televisions along with the cool beat of modern jazz all inspired me to be creative.
After serving in the U.S. Army as an emergency room technician, I attended the San Francisco Art Institute and the Academy of Art College, my tuition funded by the G.I. Bill. I supported myself with advertising work at San Francisco ad agencies and free-lance work. I decided early in art school that my artwork had to be different. It had to be super unique.
This meant I would move toward abstraction. I became obsessed with color, composition, and forms. I was inspired by Kandinsky, Klee, Miró, Picasso, and the psychoanalytic drawings of Jackson Pollock. Since my art had to be original, I invented my own visual language.
I designed colorful geometric and organic shapes. For years, I carried index cards and pens everywhere I went. Outside of my studio, I drew my ideas in North Beach cafés. I created thousands of small symbolic abstractions in ink, colored pencils, and watercolors that I could use in my future compositions. I planned them out over many cups of coffee. I photocopied every drawing because people were buying them.
Now, when I'm creating a drawing or painting, I intuitively select symbols from my original collection of forms and design new symbols. I use my subconscious mind to help choose the perfect colors, shapes, and their placements. The observer will see every detail and all of the elements in each piece, no matter how complex the composition is.
My artworks are original and have lives of their own. I infuse my heart and magic into every drawing and painting. The more personal my artwork is, the more universal it becomes. All cultures relate to my imagery.
I believe I am connecting to the collective unconscious and the primal archetype of the Earth. An invisible cosmic reality that artists like me can visualize and then transmute through their talents and creative forces. It's a kind of color alchemy for the eyes of the planet. I am making the invisible become visible.
I call my work "Abstract Symbolism," a concept my wife conjured up many years ago.

Abstract Symbolism
Abstract Symbolism is an instinctive system for portraying ideographic dream symbols in everyday reality along with imaginary symbols that float in a field of colors. A subconscious world with its own order and life. Geometric and organic forms coexist and thousands of colorful dots give the illusion of a perspective. Artistic techniques and cosmic principles help to balance the overall compositions. This is my attempt to realize a synthetic astral plane.
My drawings, which are models for larger paintings, are created with acrylic inks, acrylic paints, colored pencils, India inks, and watercolors on paper. The paintings are acrylic ink and acrylic paints on gessoed wood panel supports. Because of the amount of detail in my art style and technique, both small drawings and paintings take several months to complete.
Over the years, I've been represented by over a dozen art galleries with several group shows and have a loyal following of collectors of my drawings, jewelry, necklaces, paintings, and sculptures. Because of the new technology, I'm now marketing my work online.
Tom Robinson earned degrees in Fine Arts and Printmaking from the San Francisco Art Institute and the Academy of Art College and has a Graduate Jeweler's Degree from the Revere Academy of Jewelry Arts. He lives in the San Francisco Bay Area with his wife, the fantasy and science fiction author, Lisa Mason.
Art, Jewelry, and Mobiles by Tom Robinson
Lisa Mason, the Fantasy and Science Fiction Writer
Books by Lisa Mason
Stories, Novelettes, Screenplays by Lisa Mason
Interviews, Reviews, Storybundles, Blogs, Next Thing
Cats, Past and Present
Art © 2000—2022 by Tom Robinson.
Content © 2000—2022 by Lisa Mason.
Join me on my Patreon page at https://www.patreon.com/bePatron?u=23011206.
Donate from your PayPal account to http://paypal.me/lisamasonthewriter
For rights and publicity inquiries, please go to The Media Room.
Booksellers, Bookstores, Librarians, Libraries, and Book Distributors, please go to the Certified Reseller's Page.