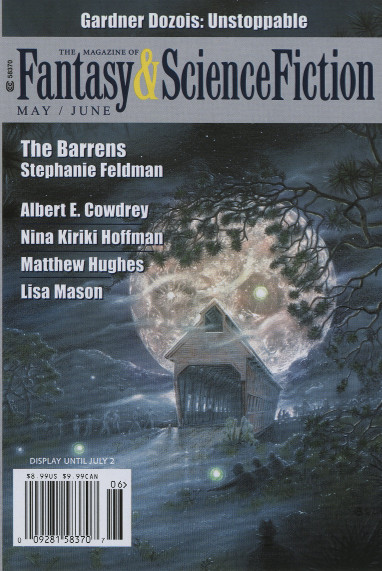 "The Bicycle Whisperer" in the May-June 2018 Magazine of Fantasy and Science Fiction
My contributor's two copies came in the mail on Wednesday. I spent yesterday looking over the magazine, reading several stories. The magazine will be on the newsstands as of May 1, 2018, but you subscribers may already be receiving your copy. To subscribe or to order this issue, please go to https://www.sfsite.com/fsf/subscribe.htm

The editor's Introduction was disappointingly vague. Here's a more informative Introduction to my story, "The Bicycle Whisperer":
After Lisa Mason encountered a homeless teenager begging for money in the parking lot of her Piedmont grocery store, a character stepped out of her imagination and demanded that Mason write about her. The Lone Rangerette, her sentient bicycle, and her mobile AI may get their own YA novel in the future. Mason's five-star novella, One Day in the Life of Alexa, was published in 2017 by Bast Books in print and as an ebook. Visit her at www.lisamason.com for all her books, ebooks, stories, screenplays, interviews, blogs, cute cat pictures, and bespoke art and jewelry by her acclaimed artist husband, Tom Robinson.

But you knew that!

Here are the Contents:
THE MAGAZINE OF
FANTASY & SCIENCE FICTION
May/June • 69th Year of Publication
NOVELETS
The Barrens -19 - Stephanie Feldman
Inquisitive - 48 - Pip Coen
Argent and Sable – 92 - Matthew Hughes
Crash Site - 150 - Brian Trent
Behold the Child – 222 - Albert E. Cowdrey
SHORT STORIES
Tender Loving Plastics -7- Amman Sabet
The Bicycle Whisperer -130- Lisa Mason
Unstoppable - 135- Gardner Dozois
What You Pass For - 176- Melanie West
Ku'gbo - 208 - Dare Segun Falowo
The Properties of Shadow - 243 - Nina Kiriki Hoffman
Here is the first review! Review of the May-June 2018 issue of The Magazine of Fantasy and Science Fiction by John D. Loyd
The Bicycle Whisperer • 5 pages by Lisa Mason
Very Good. Simon's bicycle runs away. He hires the Lone Rangerette to find her, which she does. The Lone Rangerette finds Shimano Stella, calms her down and asks her whether she has run away to get away or to get attention. A lot of story packed into five pages. http://sfbookreview.blogspot.com/2018/05/mayjune-2018-fantasy-and-science-fiction.html

So there you have it, my friends. I'll probably be doing an interview with the magazine regarding "The Bicycle Whisperer" in late May or June. In meantime, enjoy the issue. If you've got a kind word to say about my story, please review it on your blogsite, review site, Facebook, Twitter, or wherever else you roam online.
Your participation really matters. Thank you for your readership!
Books by Lisa Mason
Stories, Novelettes, Screenplays by Lisa Mason
Interviews, Reviews, Storybundles, Blogs, Next Thing
Art, Jewelry, and Mobiles by Tom Robinson
Cats, Past and Present
All content copyright 2000-2018 by Lisa Mason. All artwork copyright 2000-2018 by Tom Robinson.
Comments, questions, serious offers, lavish praise?
Contact Lisa Mason. All rights reserved.
For rights and publicity inquiries, please go to The Media Room.
Booksellers, Bookstores, Librarians, Libraries, and Book Distributors, please go to the Certified Reseller's Page.