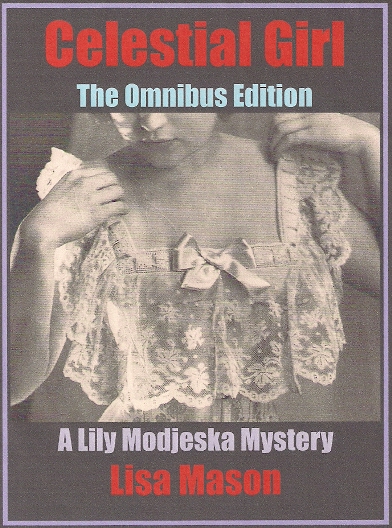 Passionate Historical Romantic Suspense

An intriguing, complex mystery grounded in extensive research into controversial 1890s immigration policy blended with passionate romance and a dash of wit.

Lily is not quite a typical woman in Toledo, Ohio, 1896. She may be repressed and dependent on her husband, but she supports the vote for women and has a mind of her own. When Johnny Pentland is found dead at a notorious brothel, she discovers her husband is not the man she thought he was.

Pursued by Pentland's enemies, Lily embarks on a journey that will take her across the country to San Francisco and across the ocean to Imperial China as she unravels a web of murder and corruption reaching from the opium dens of Chinatown to the mansions of Nob Hill.

Her journey becomes one of the heart when she crosses paths with Jackson Tremaine, a debonair, worldly-wise physician. Lily and Jackson begin a conflicted, passionate relationship as they encounter the mysterious Celestial Girl and her dangerous entourage.
Celestial Girl, The Omnibus Edition (A Lily Modjeska Mystery) is on Nook, US Kindle, Canada Kindle, UK Kindle, Smashwords, Apple, and Kobo.

Celestial Girl, The Omnibus Edition (A Lily Modjeska Mystery) is on Amazon.com in Australia, France, Germany, Italy, Spain, Brazil, Japan, India, Mexico, and Netherlands.

From Amazon.com
New 5-Star Review "Well written, good characters, and plotting….I'm a Lisa Mason fan, for sure!"

5 stars Great Read! October 12, 2013
"I really enjoyed the story and would love to read a sequel! I really enjoy living in the 21st century, but this book made me want to visit the Victorian era. The characters were brought to life and were a delight to read about. The tasteful sex scenes were very racy. Good Job!"
The Omnibus Edition includes Books 1 through 4 of the Lily Modjeska miniseries. You can also try the miniseries in three installments.
If you enjoy a work, please "Like" it, add five stars, write a review on the site where you acquired it, blog it, Tweet it, post it, and share the word with your family and friends.
Your participation really matters.
Thank you for your readership!
All content copyright 2000-2017 by Lisa Mason. All artwork copyright 2000-2017 by Tom Robinson.
Comments, questions, serious offers, lavish praise?
Contact Lisa Mason. All rights reserved.
For rights and publicity inquiries, please go to The Media Room.