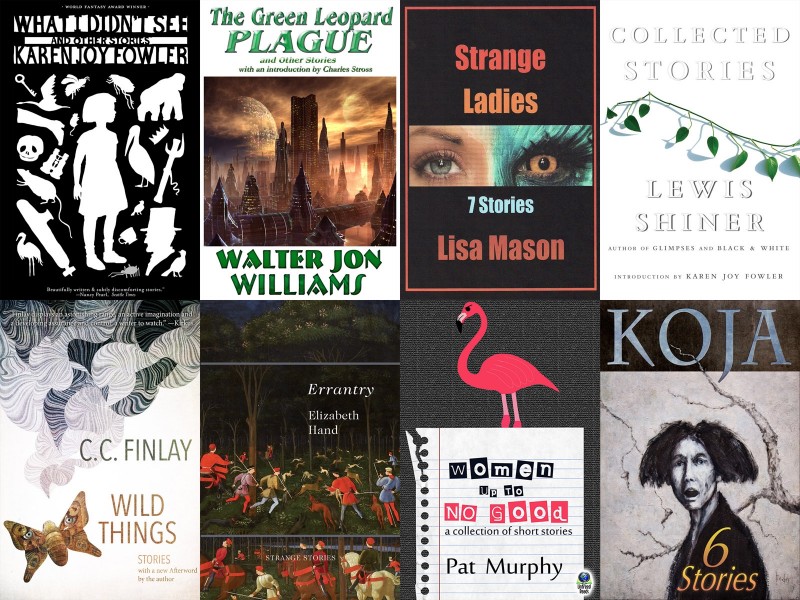 The Story Collection Storybundle!
The Story Collection Storybundle was live from May 11 through June 2, 2016! Another bestselling storybundle!

Note: I've posted the Storybundles I've curated because first, I'm proud of them, second they were a lot of work for me, third I'm proud of the authors who participated in them and made them a huge success, and fourth I love the group covers, which Jason at Storybundle put together for me.
As always at Storybundle.com, you the reader name your price—whatever you feel the books are worth. You may designate a portion of the proceeds to go to a charity. For the Story Collection Storybundle, that's Science Fiction and Fantasy Writers of America.

For $5 (or more, if you wish), you'll receive the basic bundle of three books in DRM-free format worldwide. For $12 (or more, it's up to you), you'll receive five bonus books as well. That's eight stellar ebooks to add to your e-library.

The initial bundle includes:
Collected Stories by Lewis Shiner
The extensive and multi-genre collection was prepared as an ebook for Storybundle, includes forty-one stories, and has an Introduction by Karen Joy Fowler. Shiner was a finalist for the Philip K Dick Award, the Hugo Award, and the Nebula Award.
Errantry: Strange Stories by Elizabeth Hand
Hand won the World Fantasy Award four times, the Nebula Award twice, the Shirley Jackson Award twice, the Mythopoetic Award, and was a New York Times and Washington Post Notable Book Author.
The Green Leopard Plague and Other Stories by Walter Jon Williams
Two stories in this collection won the Nebula Award. Williams was a Philip K Dick Award Finalist and placed numerous times for the Nebula and Hugo Awards.
The bonus books, which complete your bundle, are:
What I Didn't See: Stories by Karen Joy Fowler
The collection won the World Fantasy Award and the title story won the Nebula. Fowler wrote The Jane Austen Book Club, a New York Times Bestseller made into a film, and won the 2013 PEN/Faulkner forWe are all completely beside ourselves.
6 Stories by Kathe Koja
The collection was created by the author exclusively for Storybundle. Koja won the Bram Stoker Award and was a Philip K Dick Award Finalist.
Strange Ladies: 7 Stories by Lisa Mason
The collection received five stars from the San Francisco Review of Books. Mason was a Philip K Dick Award Finalist, a San Francisco Chronicle Recommended Book Author, and a New York Times Notable Book Author.
Women Up to No Good by Pat Murphy
The collection includes two Nebula nominated stories. Murphy won the Nebula twice, the World Fantasy Award, and the Philip K Dick Award.
Wild Things by C. C. Finlay
The collection is an ebook exclusive for Storybundle and has a new Afterword. A multi-award-nominated author, Finlay is the editor of The Magazine of Fantasy and Science Fiction.

It's difficult to locate some of the stories in anthologies and magazines that have gone out of print. The authors of the Story Collection Storybundle have done the work of assembling their collections. All you have to do is enjoy!

If you love short stories as much as I do, you'll find a delightful cornucopia of literary riches. The Story Collection Storybundle is unique and diverse. Browse selections among them or devour an author's entire offering. That's what I love about stories. The choice is yours!

The Story Collection Storybundle ran from May 11 until June 2, 2016, twenty-three days in all. Just in time to load up your ereader for summer vacation! But you must act now. Once it's gone, it's gone!

Download yours today at https://storybundle.com/storycollection and enjoy world-class, award-winning reading right now and through the summer months.
Lisa Mason
Curator of The Story Collection Storybundle
Lisa Mason, the Fantasy and Science Fiction Author
Books by Lisa Mason
Stories, Novelettes, Screenplays by Lisa Mason
Interviews, Reviews, Storybundles, Blogs, Next Thing
Art, Jewelry, and Mobiles by Tom Robinson
Cats, Past and Present
All content copyright 2000-2019 by Lisa Mason. All artwork copyright 2000-2019 by Tom Robinson.
Comments, questions, serious offers, lavish praise?
Contact Lisa Mason. All rights reserved.
For rights and publicity inquiries, please go to The Media Room.
Booksellers, Bookstores, Librarians, Libraries, and Book Distributors, please go to the Certified Reseller's Page.
Forthcoming! The Bast Bookstore and Gallery!