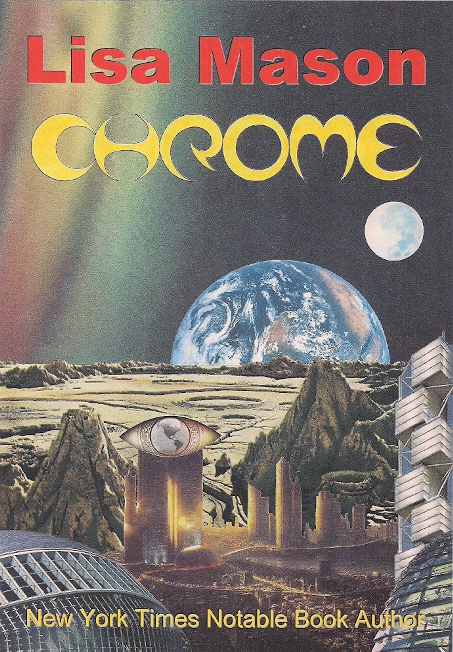 From New York Times Notable Book Author Lisa Mason
CHROME
Two hundred fifty years ago, a purveyor of poisons and the creator of genetically modified organisms—Emirk Corporation—launched into the Moon's orbit around the Earth an artificial planetoid called CHROME.
There, Emirk technicians created races of human beings blended with the genes of animals. They were called Blends.
Now Luna Lightfoot—half puma, half woman, jewel thief—inadvertently hears a confidential conversation and witnesses a murder. She teams up with Terralina Rustabrin—half tortoise, half woman, bond-promised to a tortoise prince—and discovers a murderous scheme to change the lives of Chromians. A chameleon mercenary and an insane mastermind lurk behind the scheme.
WOOT!
Yes! A Brand-new Review of Chrome, the First One (on U.S. print and US Kindle)
"So Walter Mosley reread Animal Farm and The Island of Dr Moreau and says to himself, "Oh, yes indeed, I've got a terrific idea for my next best seller." But! Lisa says, "Hold on, hot stuff. You're too late. Chrome is already on the streets. Haha!"
Wow! I just tore through Chrome. So much fun. Oh, I guess I should take a time-out to say that it was very well-written too, but I was enjoying the characters and the story so much that the superb writing simply did its job and I had to consciously reflect to notice the excellent and clever construction and reveals. Uh, isn't that the definition of good writing?

I'm not usually a fan of sequels, but could we please have at least one more romp with Ms Lightfoot and her sidekick Terralina?"
A featured review from Publishers Weekly:
"Mason entertains and elicits fascinating questions about human nature in this fast-paced, action-packed science fiction adventure....The colorful cast raises the question of which ancestry is more savage: that of animals or humans? (CHROME reads) like a cinematic sibling of The Island of Doctor Moreau. Readers ....will be hooked."
—

Publishers Weekly
And another Brand-new review of CHROME in Amazing Stories online by Steve Fahnestalk (who has 19,000 subscribers of his column). Here's Steve:
"Next month, January 2020, will be my seventh consecutive year of writing for Amazing Stories® online! I hope you've enjoyed my writing as much as I have enjoyed being a part of Steve Davidson's reboot of this famous magazine, and I hope to be able to do this for a long time to come. For my last column of the 2010s (and 2019 in particular), I've chosen to review two very good genre works, one an excellent magazine, and the other an excellent semi-noir full-on SF work by a terrific author I've reviewed before, and (as the cover above says, a New York Times Notable Author). I'm talking about Lisa Mason's new novel Chrome, first.
I hesitate to characterize it, because it's so much more than a short description can convey, but in my mind it stands out as a science-fiction homage, in part, to the noir books and movies of the forties and fifties, only brought forth into a future time a quarter-millennium from now. There's no world-weary Robert Mitchum-type 'tec as a protagonist; rather, our hero is a beautiful half-human, half puma thief named Luna Lightfoot, who makes her main living as what we might call a video star. Millions of people back on Earth pay for the privilege of watching her at home while she eats, sleeps, and carries out her home life for their voyeuristic pleasure. She also hangs out with the rich and famous.
Luna lives on an artificial planetoid, called Chrome, at one of Earth's LaGrange points, put there 250 years ago by one of Earth's wealthiest and greediest corporations, the Emirk group. (If you want to know where Emirk came from, the name refers to a tributary of one of Earth's big rivers, according to the author. When you get to that part, you'll understand.) Back in our time (and this is true), a Chinese scientist claims to have gene-edited a couple of children using the CRISPR method, which is sort of like gene cut-and-pasting. Scientists around the world—and, finally, this own government—decried the use of CRISPR on humans. However, in this book, Emirk started experimenting (at first, openly, but then, thanks to public and governmental outcries, covertly) with "improving" the human genome by adding genes from practically every oxygen-breathing species of animal on the planet. Spending billions to build Chrome, Emirk's experiments were moved there and continued. Human subjects were given or sold by outlaw governments and factions to Emirk's scientists; and now there exists a whole society of human/animal interbreeds, called "Blends," on Chrome. Humans cannot live there anymore, thanks to a plague that killed off (and continues to kill off) any unmodified humans, yet Emirk still owns Chrome, and figures it owns all the inhabitants too.
Luna attends a party given by Bunny Hedgway, one of Chrome's glitterati in order to steal an artifact from Bunny's treasure room, but while she was engaged in this theft, witnessed the murder of Chrome's prima ballerina, an ostrich Blend named Zena Kinski, by an unidentified Blend who was wearing a wolf costume, but who may not have been a wolf. Because she was witnessed on the roof of Bunny's place at the time of the murder, Luna needs to clear herself and find out who the Blend is who actually killed Zena. In the process, Luna finds herself becoming familiar with Chrome's criminal underworld, and gains enemies as well as new friends and allies. One of those is the tortoise Blend Terralina Rustabrin, who is about to be bond-mated to a Prince of tortoise Blends. (Blends are not legally humans; therefore, cannot marry, according to Emirk Corporation. So "bond-mating" is their substitute.) Although Terralina's eyesight is poor, she happens to be close to several significant happenings related to the murder, and actually saw Luna come down off Bunny's roof.
In this book, Lisa has created a world and a society that mirrors our own in many respects; although we have no (to the best of my knowledge) actual Blends on Earth, corporations and governments on this planet are actively trying to (and in some cases have succeeded) treat humans as if they were Blends, or property. And you can just bet that these kinds of experiments will happen somewhere on Earth if they aren't already happening. Like what happens to most enslaved people everywhere, many Blends are rich or getting rich by actively helping Emirk subjugate their fellow Blends. There are Blend geniuses, one of whom created the "Tatts," a type of tattoo that acts as a communications device, archival device, amanuensis (a blend of Alexa and Google in some ways) and other things. It's a fully-realized society that takes some of the attributes of the animal parts of Blends and applies what those traits might mean to humans who have them.
And as for the noir mystery part; whether Luna solves her own problem (of being a suspect and a fugitive from the killer(s)), you'll just have to read the book to find out. I really appreciate the fact that the ending is not a "pat ending." I suspect Lisa may someday turn out a sequel to Chrome. Anyway, I liked this book and recommend it."
See Steve's review online, with a beauteous picture of me holding an F&SF magazine in which I'd published a story at https://www.amazingstories.com/2019/12/my-last-column-lisa-masons-chrome-and-fsf-nov-dec-2019/ Read on for Steve's review of the November-December 2019 F&SF. He compares the theme of one story to "Lisa Mason's CHROME." I like that!
Yes, two more books to round out the CHROME Trilogy and a prequel novella, are in the works!
Lisa Mason has published eleven novels, including Summer of Love (a Philip K. Dick Award Finalist), The Gilded Age (a New York Times Notable Book), Arachne (a Locus Hardcover Bestseller), Cyberweb (the sequel to Arachne), The Garden of Abracadabra ("Fun and enjoyable Urban Fantasy"), Celestial Girl (A Lily Modjeska Mystery), One Day in the Life of Alexa ("An appealing narrator and subtly powerful emotional rhythms"), Strange Ladies: 7 Stories ("A must-read collection"), and forty stories and novelettes in magazines and anthologies worldwide.
But you knew that!
Look for the CHROME ebook on US Kindle, Barnes and Noble, Smashwords, Apple, Kobo.
Also on UK Kindle, Canada Kindle, Australia Kindle, India Kindle, Germany Kindle, France Kindle, Spain Kindle, Italy Kindle, Netherlands Kindle, Japan Kindle, Brazil Kindle, and Mexico Kindle.
Look! The jacket flat came in! And now CHROME is in U.S. print as a beautiful trade paperback. Also in U.K. print, in German print, in French print, in Spanish print, in Italian print, in Japanese print, and in Australia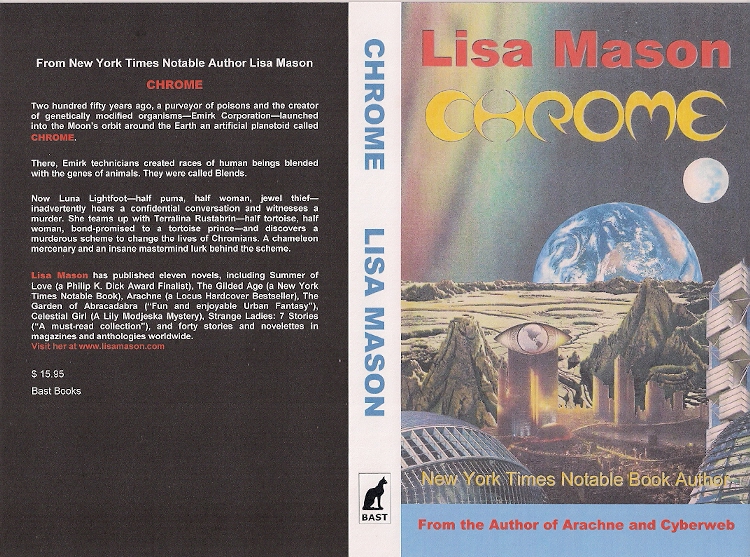 And here are the gorgeous books!
Join me on my Patreon page at https://www.patreon.com/bePatron?u=23011206.
Donate from your PayPal account to http://paypal.me/lisamasonthewriter
Your participation really matters!
Lisa Mason, the Fantasy and Science Fiction Author
Books by Lisa Mason
Stories, Novelettes, Screenplays by Lisa Mason
Interviews, Reviews, Storybundles, Blogs, Next Thing
Art, Jewelry, and Mobiles by Tom Robinson
Cats, Past and Present
All content copyright 2000-2022 by Lisa Mason. All artwork copyright 2000-2022 by Tom Robinson.
Comments, questions, serious offers, lavish praise?
Contact Lisa Mason. All rights reserved.
For rights, publicity inquiries, and direct sales please go to The Media Room.